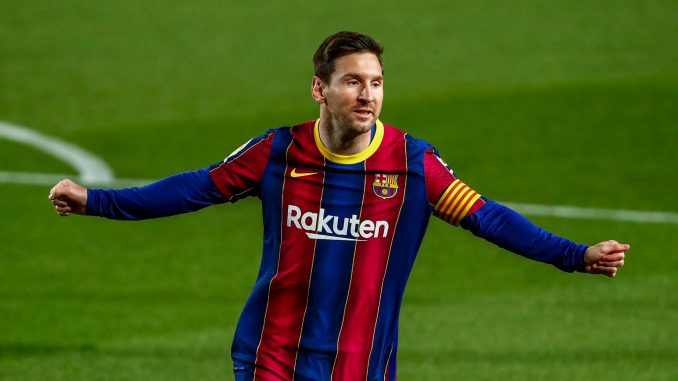 Lionel Messi is probably the best footballer in the history of football. His way of play is fun to watch. The little magician is blessed with amazing skills like close ball control, dribbling skills, turn of pace, balance, and stability that no other player can match.
He has been in the Barcelona football club since when he was just a kid. The 34-year-old has brought many honors to the Catalan giants. He was an integral part of that team that played so beautifully that no team in Europe could match them.
Barcelona is going through a financial crisis and they had hoped to ship out some players before they could offer Messi a new 5-year contract.
Also Read: How Mukundi Was Tricked By A White Woman To Undergo Vasectomy That Caused His Impotence
The Barca talisman had agreed to reduce his salary by half but they could not agree about the structure of the deal which made it difficult for Messi to sign.
He is now a free agent and can be able to sign for any club before football resumes in Europe. Few clubs have been linked to him like Manchester City and PSG.
These are the only ones that can be able to afford his astronomical wages. Messi walking out of Barca for free is a blow to the Catalan giants given that they cannot be able to replace him. Barcelona without Messi is a shell and they might be able to finish even in the champions league spots in La Liga.
Premier League fans hope to see him soon because of his skills and the beauty of his play.
Below is the statement that Barcelona released to confirm Messi's departure;
'Given this situation, Lionel Messi will not continue linked to FC Barcelona. Both parties deeply regret that the wishes of both the player and the Club cannot finally be fulfilled.
'Barca would like to thank with all its heart the player's contribution to the enhancement of the institution and wishes him the best in his personal and professional life.'
Earlier in the evening, the news had initially been broke via Catalan radio outlet RAC1, which noted that Messi's situation at Barca had become 'irreversible'. 
He is, it was reported, 'more out of Barca than ever' and 'does not like the current squad'.